Butternut Squash stuffed with maitake mushrooms in a tahini sauce
This dish  is super rich, healthy and incredibly delicious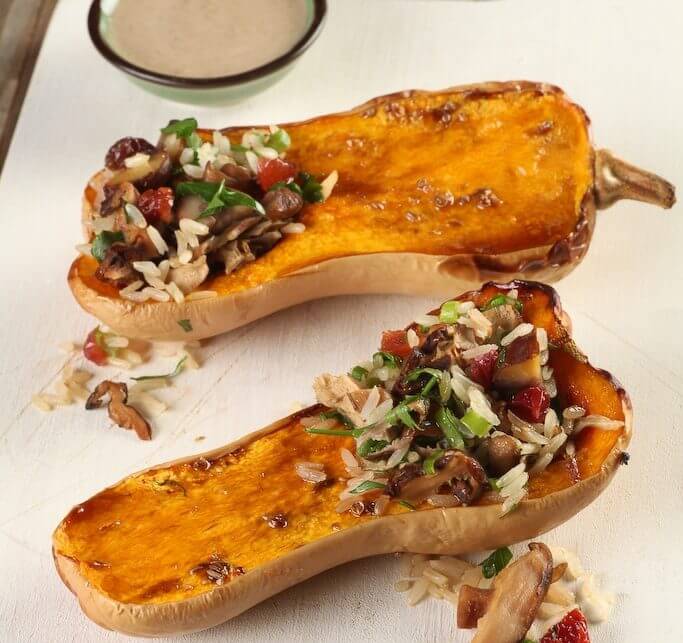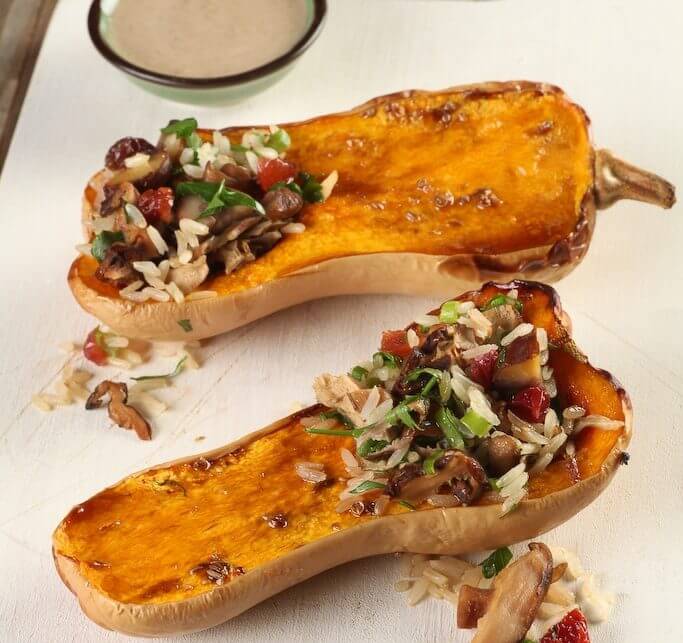 6 servings
3 butternut squashes, cleaned and cut lengthwise
4 tablespoons date syrup
2 tablespoons olive oil
1 teaspoon coriander seeds
1 teaspoon cumin seeds
¾ cup of whole grain rice, soaked, rinsed and drained
1 ½ cups boiling water
2 cloves of garlic
1 bag of dried maitake mushrooms
Save the soaking liquid
1 Salt and pepper
vacuum-sealed bag (200g) of chopped chestnuts, or 2/3 cup of chopped walnuts
For serving:
6 servings
3 butternut squashes, cleaned and cut lengthwise
4 tablespoons date syrup
2 tablespoons olive oil
1 teaspoon coriander seeds
1 teaspoon cumin seeds
¾ cup of whole grain rice, soaked, rinsed and drained
1 ½ cups boiling water
2 cloves of garlic
1 bag of dried maitake mushrooms
Save the soaking liquid
1 Salt and pepper
vacuum-sealed bag (200g) of chopped chestnuts, or 2/3 cup of chopped walnuts
For serving:
Method:
Soak the dried mushrooms according to the directions on the package,  squeeze the water out, dice and save the soaking liquid.
Heat some oil in a pot; add garlic, rice, salt, pepper and stir. Measure the quantity of the mushroom soaking liquid and add water to make it a cup and a half of liquids and add it to the pan with mushrooms. Cover the pot and bring to a boil, transfer to a low flame and cook covered for about 30 minutes until the rice is tender. Cool and transfer to a bowl.
Spread date syrup on the halved squash, drizzle a little olive oil and sprinkle with salt, pepper, coriander and cumin. Bake in an oven preheated to 200 degrees Celsius for about 40 minutes until the butternut squash is soft.
Add the rest of the ingredients to the bowl of rice, stir and fill the butternut squash. Before serving, drizzle some Tahini on the butternut squash
Enjoy!